Test & Quiz Results
All quiz results should link back to the original quiz, so you can take it yourself!
A BLACK Dragon Lies Beneath!

My inner dragon is one of two harmonious dragons (the other is White). Deep down I'm dark, foreboding, and just a tad wicked. *evil grin* Fun, no? Click the image to try the Inner Dragon Online Quiz for yourself.



Which flock do you follow? this quiz was made by alanna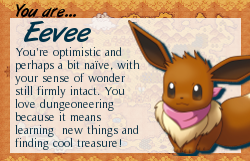 What Anime Hair Color Best Suits Your Personality?Hosted By theOtaku.com: Anime


What Dere Type Are You?Hosted By theOtaku.com: Anime


What Genre Of Manga Are You?Hosted By theOtaku.com: Anime